Static Sieves
Simple, high efficient equipment thought for mechanical solid-liquid separation. Low cost devise, as it does not require energy or human handling. It has a dirty water input, a box, a grid and a filtrated clear-water output. The water exit is located at the rear side and occasionally at the bottom right.
It has an auto-washable strainer. Nevertheless, a continuous manual cleaning would be necessary depending on the type of solids to treat and the flow distribution.
MATERIALS
AISI-304/316L stainless steel
Fiberglass reinforced polyester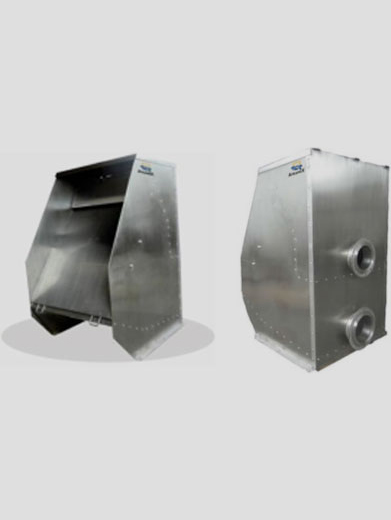 MAIN APPLICATIONS
Urban and industrial sewage.
Sand filter suds.
Food industry: canning, wineries, slaughterhouses, pre-cooked foods, tanning, milk products, breweries, etc.
Textile, dyeing, chemicals, oil and pharmaceutical industries.
Paper industry, cellulose, cardboard, press filter water, fish farms and all kinds of business that require fine separation in general.