Grinders - Waste Compacters
Compact equipment, which is powered by a hopper for grinding, cleaning, compaction and solid dehydration gathered by the grilles.
Once the flow is separated, solids are grinded to reduce their size and increase the contact surface between the particles to simultaneously dehydrate and compact them. The result is a homogeneous mass with less odor and less transportation and human resources costs.
APPLICATIONS
It is used in several industries,
as it can reduce a wide waste variety.
The volume of waste can be reduced up to 50 and 70%,
without any liquid or odor in the final product.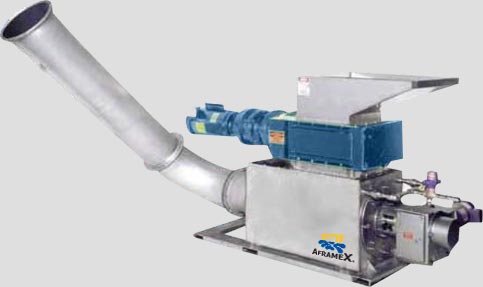 Hopper:

Standard dimensions of 400 mm wide, 400 mm long and 400 mm height.

Liner:

Variable diameter and capacity depending on the model, attached drain zone and optional counterweight.

Drain tube

Compacting chamber

Transportation tube


for waste elevation.
Discharge output

Hydraulic group UHP:

Electric engine 440/220 VAC, 3 phases, 60 Hz, minimal protection IP-55, isolation type F.

Oil deposit
Limitation valve
Glycerin gauge
Level control viewer with thermometer
Suction and return filter
Flexible connections between the UHP and the cylinder
Double-effect oil-hydraulic cylinder