AUTO WASHABLE AUTOMATIC GRATINGS
Units which principal aim is to separate solid waste suspended in the water (garbage, leaves, sheets, bottles, etc.). A fixed grid subsequently retires them as often as it is required.
To establish the screening quality, it is important to designate the space between the grid´s bars, which sets the size of the solids to be retained. It is recommended to use two gratings placed in series to retain larger solids at the first one and smaller solids at the second one.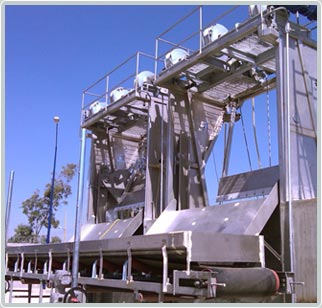 "Simple assemblies or plant updating adaptations"
AframeX automatic flow cleaning systems are designed according to each project´s particular characteristics. They are manufactured at our industrial plant under our quality system ISO 9001:2008 Certification, with specialized technicians, machinery and modern equipment.
CONTACT US
Main Types
Characteristics
Standard Screening Quality
Implementation
All the units work efficiently and safely.
Solid ejector with over-capacity protector (limitation).
Pre-calibrated protection of the cleaning rake from a lifting traction axis´ overload.
Full stop system in case of a failure at the lifting cable.
An easy and exact cleaning rakes alignment.
Lifting cable traction angle-compensator.
Untwisting stainless steel cable system with a pressed type at one end.
Cable rewinding drums with a calibrated diameter and length to form a single cable line.
The cleaning rake´s teeth operate without any contact with the grid.
Detachable and sectioned cleaning rake comb.
Adjustable cleaning rakes teeth at both sides.
Guide wheels and changeable wear limit stops at both sides of the rake.
High resistance pre-folded side guides, which can be concrete recessed or just superimposed.
Guaranteed grid resistance from complete overload to main differential load.
No-return guarantee of captured solids ant the rake´s channel.
Standard Screening Quality:
Sheer roughing: 3 to 10 mm
Medium roughing: 15 a 50 mm
Heavy roughing: 50 a 100 mm o mayores
IMPLEMENTATION at industrial, municipal or private services, such as:
Pre-treatment / pumping equipment protection
Drains - water intakes
Water treatment plants
Closed or open sky channels
Housing units
Sport clubs
Residual and/or sewage
pumping water stations
Channel or river intakes
Rakes
Sugar mills
Paper industry
Main Types
Inclined multi-combs
Vertical for heavy service
Rail articulated
Helical with conveyer
"U" type grids
Compact units
Mobile structure cleaning grid
Modular chained strainers